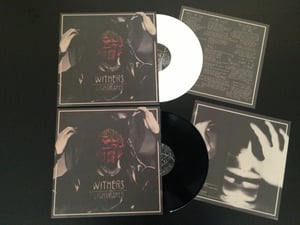 €

10.00
After last years selftitled 7", WITHERS are about to release their first 12" called "lightmares".
The fourpiece from Linz, Austria is approaching music intensely, and is driven by vocal outbursts,and disruptive guitars.
They are developing a sound that will assault your senses, feedbacks punctuating the eardrum to an apocalyptic backdrop.
Lyrically they want to keep it deep and speak in general about human/social atrocities, troubled minds, search of self-awareness, and so on...
Bands like CONVERGE, BOTCH or CURSED might come to mind listening to them. LP comes with eyecatching artwork, thick inside-out cover, black innersleeve, lyricsheet and includes a digital download card.
Released by:
ADAGIO830
PER KORO RECORDS
LIFE AND DEATH RECORDS
Artwork by Druckwelle
Listen: WITHERS bandcamp